SEAN SINCE HIS 2015 RELEASE
VIDEO OF SEAN SPEAKING IN NEEDHAM, MA -- CLICK TO NAVIGATE
Sean Ellis Since His 2015 Release
Sean Ellis is living an admirable life. Since his release, family and friends and his legal team have rallied to help him re-adjust to civilian life. A kind official at his mother's church provided him housing for the first three years, while he got his bearings. Friends funded his attendance at a driver's education course (at age 41 he was a first-time driver) and provided him with a computer and a serviceable used car. He is working full time at a charitable agency in Boston.
A devout Muslim, Sean eshews the club scene and instead focuses on his large extended family in the Boston area and his growing circle of friends. In spring 2018 he moved into a two-family home north of Boston that was recently purchased by his family and that he's working hard to renovate. He and his life partner -- his first love from high school -- occupy one floor, and his mother, Jackie, and sister, Shar'Day, will soon move to separate quarters on another floor. His personal life has never been happier or more stable.
He frequently speaks out on criminal justice at Massachusetts events and he's twice received permission from the courts to travel out of state with Shar'Day to tell his story at two national "Innocence Network" conferences: San Diego in 2017 and Memphis in 2018.
All this time he's lived under the prospect of a looming fourth murder trial. Suffolk County prosecutors initially scheduled that retrial for mid-October 2018 but have moved it up a year, to September 9, 2019. Ever since being freed on bail in June 2015, Sean has been required to wear a GPS device on his ankle that requires frequent recharging.
Sean Ellis Speaks at New England Innocence Project Event, October 2017
See video of this event, below.
Sean Ellis was the featured speaker at an October 26, 2017 event in Needham, MA -- "Failure of Justice," sponsored by the New England Innocence Project (NEIP) and Joined in Action, Needham. It was attended by more than 100 individuals, most from the Needham community.
The Q&A format was organized and moderated by Stephanie Hartung, Esq., a NEIP board member and Teaching Professor at Northeastern University Law School.
Sean spoke about his experiences while a Metco student in suburban Needham, waking at 5 AM each morning for the bus ride from Dorchester; his terrifying arrest and imprisonment in 1993; his three 1995 trials (the first two trials ended in hung juries and were declared mistrials); and the links he lost to family and friends during his nearly 22-year wrongful imprisonment.
* * * floor
Video of Sean's Speech 10.26.17 Part I (25 min.)
QUESTIONS POSED BY MODERATOR STEPHANIE HARTUNG, ESQ., BOARD MEMBER OF THE NEW ENGLAND INNOCENCE PROJECT:
* Reflections on being a Needham Metco student in the 1980s
* Thoughts on his experiences in the criminal justice system
* The role he thinks racial bias played in his case.
* His 22 years in prison: how did he find the strength to fight on?
* The impact his incarceration had on his family and community?
* Challenges he faced after his 2015 release
Video of Sean's Speech 10.26.17 Part II (20 min.)
SEAN'S RESPONSES TO AUDIENCE QUESTIONS:
* Investigative techniques used by his legal team.
* Emotional support upon his release
* Can he sue the Commonwealth for wrongful conviction?
* Relationships in prison...and violence
* Number of times he can be tried
* What's coming up next in his case?
* What about police corruption in the case...the photo ID?
* The politics of the case
Postscript to Sean's Needham Speech 10.26.17 (4 min.)
Left: NEIP organizer Stephanie Hartung, Esq. with Sean and his mother, Mary "Jackie" Ellis. Center left: Sean with his sister, Shar'Day Taylor and his mother, Jackie; Center right: Sean with four friends and staunch supporters; Right: Sean pictured in front of a slide showing disgraced former Boston Detectives Kenneth Acerra and Walter Robinson escorting 19-year-old Sean to prison. These investigating detectives' later-revealed criminal activities while in uniform, in cahoots with victim John Mulligan, convinced Superior Court Judge Carol Ball to conclude they had a conflict of interest and that "justice was not done" in Sean's 3rd trial. She reversed his conviction in May 2015 -- a ruling unanimously affirmed by the Mass. Supreme Judicial Court in September 2016.
Joyous Reunion of Student and Teacher at the October 2017 Needham Event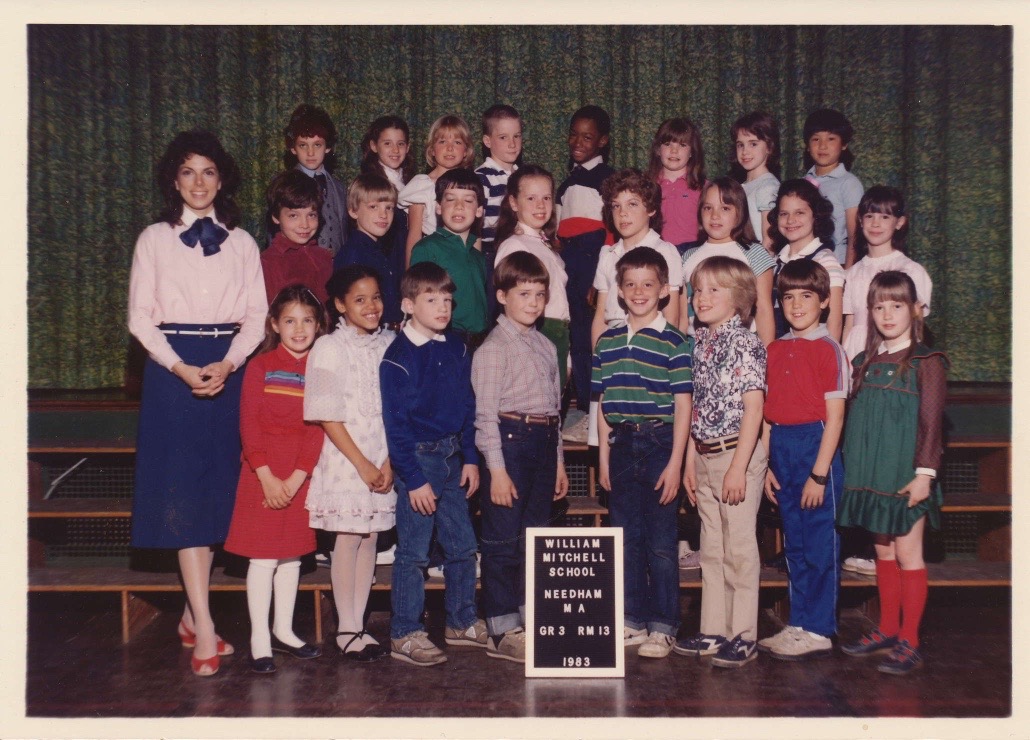 1983: Sean Ellis pictured in top row, middle , in Miss Priscilla Santoro's 3rd Grade Class at the Mitchell Elementary School, Needham, MA. His friend, Mark Murphy, is the 4th student from left, first row.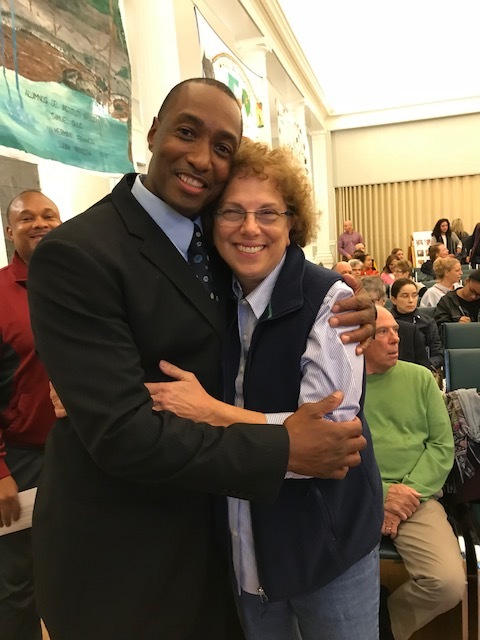 2017: 34 years later, Sean reunited with that same 3rd grade teacher, now Mrs. Priscilla Fisch, at the Needham NEIP event on Oct. 26.
* * *
Sean Ellis speaks at San Diego Innocence Conference, March 2017
Sean Ellis brings his story to the 2017 Innocence Network Conference
by Elaine Murphy. (An edited version of this article appeared in the April 13, 2017 Dorchester Reporter.)
Sean Ellis, former Dorchester resident, recently traveled to San Diego as a guest of The New England Innocence Project to participate in the March 24-25 Innocence Network Conference. The Network, an affiliation of 56 U.S. and 13 non-U.S. organizations, hosts the conference annually in support of its mission of "providing pro bono legal and investigative services to individuals seeking to prove innocence of crimes for which they have been convicted, and working to redress the causes of wrongful convictions."
Ellis, who was accompanied by his sister, Shar'Day Taylor, a Commonwealth of Massachusetts social worker, had to pass through gigantic hoops to get to San Diego, hoops that began nearly a quarter century ago. First, over his protestations of innocence, he was convicted in 1995 -- at his third trial, after two hung juries -- of the 1993 murder and armed robbery of a Boston detective. From prison he endured the denials of his 1998 motion for a new trial and its appeal. He ultimately spent more than 22 years incarcerated until Boston defense attorney, Rosemary Scapicchio, took up his case and in 2015 convinced a Suffolk Superior Court judge that, due to police misconduct and prosecutorial lapses, he deserved a retrial. Ellis was immediately released, but not before 21 years, 7 months, and 29 days of his life were lost behind bars.
Now age 43, and free on bail as he braces for yet his fourth trial on murder one charges brought by Suffolk County prosecutors (its date has yet to be determined), Ellis needed the court's permission to travel out of state and temporarily remove the GPS ankle bracelet he wears 24/7. Chief prosecutor Edmund Zabin objected to his travel, telling the hearing judge, "He never should have been let out" -- this despite the unanimous affirmation of Ellis's wrongful conviction by the Massachusetts Supreme Judicial Court in 2016.
The trip was a thrill for Ellis, the first time he'd been on an airplane. He excitedly filmed the takeoff on his smartphone. "It was the first time I've felt free since I've been out."
Over 550 people attended the conference, including 150 exonerees, and Valerie Jarrett, former advisor to President Obama, kicked off the proceeding with a keynote address.
"There was never a dull moment," said Ellis, who attended such workshop sessions as, "Social Media: Power, Presence & Purpose." At the "Moth Storytelling" workshop, he and more than two dozen other released inmates were allotted five minutes apiece to tell their stories onstage. Sean, by now a seasoned speaker at various forums around Boston, found this a huge challenge. How to compress all he'd gone through into 5 minutes?
He ended up focusing on two life-changing days: The first was in 1993, when at age 19 he walked into a 24-hour drugstore in the early morning hours and bought a box of Pampers for his cousin, and "one and a half weeks later I was arrested for murder." Boston Police Detective John Mulligan, who was guarding the store from his SUV parked in the fire lane outside, was murdered as he slept in in the driver's seat shortly before dawn on September 26, 1993.
The second day Ellis described occurred in prison, when his lawyer brought him the FOIA information that had begun arriving (after an 8-year wait) detailing crimes ongoing in the 1990s by John Mulligan and three other Boston detectives. The surviving trio investigated Mulligan's murder and marshaled every piece of evidence used against Ellis. The men's revealed double lives -- a longstanding enterprise of falsifying warrants and robbing drug dealers -- made Ellis realize there was a bigger story going on behind the scenes.
The courts agreed. As Chief Justice Ralph Gants wrote in the SJC's 2016 ruling, "We did not know at that time that these detectives had been engaged with the victim in criminal acts of police misconduct as recently as seventeen days before the victim's murder. The complicity of the victim in the detectives' malfeasance fundamentally changes the significance of the detectives' corruption with respect to their investigation of the victim's murder."
Ellis concluded his San Diego talk by admitting that, over the course of his long imprisonment he lost faith in the system, but never lost faith in himself. "They could not take that from me." As he saw it, in prison offered two choices: either be consumed by the negative environment or grow. "I chose to grow."
That he did, earning a paralegal degree by correspondence course, getting in touch with his emotions through the prison's "Jericho Circle" chapter ("In prison you grow callous," he says) and receiving counseling training in the "Second Chance" program of mentoring youthful offenders.
He described an emotional moment at the conference. Seated at dinner one evening, he turned to his left and recognized as a fellow inmate from MCI Norfolk. Both men were shocked to see each other, because in prison, "You don't discuss your cases" due to strict instructions from defense attorneys not to. "So you have no idea what other people are going through." For years the two had passed each other at Norfolk with a perfunctory, "Hi, How ya doin'?" with not the slightest inkling of each other's situation.
Now, meeting by surprise in San Diego and realizing that the other guy was also wrongfully convicted (this man did 18 years' time), they each spontaneously exclaimed, "You too?" and tightly embraced. The newfound friends now "share a bond like no other," Ellis says.
Asked what he'd like people to know about his conference experience, he pointed to a photo of the stage backdrop proclaiming a total of 2,953 years of incarceration endured by those telling their stories. Even so, "The stage had a certain feeling to it," he said. "It was of love, compassion...maybe even warmth. It felt comforting and warm. There was none of the tension of prison. It was just beautiful."
The lesson Sean Ellis drew from this, that he wants to share, is that "this feeling can exist" in the hearts of people who've been wrongfully imprisoned -- people with every right to hold unrelenting bitterness against the system. People, like him, who've chosen to grow.